Wednesday, June 20, 2007, 05:43 AM
So with most of the Grandparents and some of the Godparents in attendance, TheO was introduced into the Catholic church. I hope it treats him well, if indeed he wishes to get involved. I have passed his name to the Inquisition and think he will enjoy the
'Comfy Chair'
Father Christopher Galdes conducted the baptism in English at Church of St. Francis of Assisi, Qawra. I was a little wary however when TheO was given a lit candle. A very nice present I thought as visions of
The Towering Inferno
raced around my mind!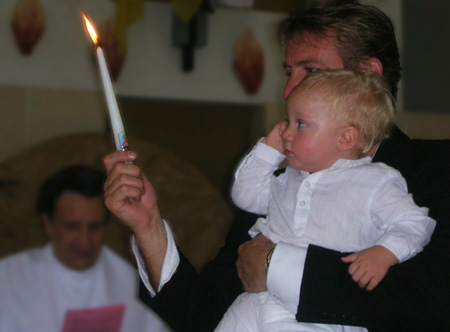 Mischief in mind!!
The good lady had told me to organise a high tea at somewhere 'classy', so after the fire brigade had arrived at the church, we all escaped to the
Radisson Hotel
at Golden Sands. TheO had plenty of fun running around with his chums, leaving those older than 12 to knock back gallons of tea and a buffet vast enough to feed a wedding party. The waitress in the white dress was rubbish though!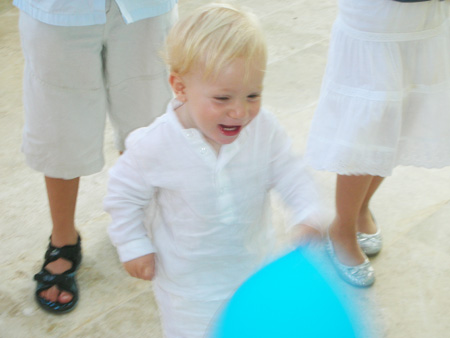 The little lad manages to make a break for it...
As the day came to a close, the sun setting over the bay, TheO nesting and looking for sleep, we prepared to do the whole thing again at a different venue. The Maltese don't do things by halves, and TheO's 'Nanna & Nanoo' love to entertain. More relatives!?! I do miss the Stella you know!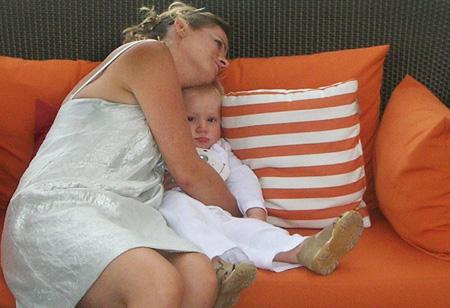 The Good lady uses TheO as a comfy cushion,
not expected!