Tuesday, April 17, 2012, 07:57 AM
Posted by Administrator
Writer's block. It's my only excuse! Explaining this to TheO & Louyn gets a mixed reaction of little understanding or a demand for a
Bakugan
brawl! If I spent my time updating your news and not flicking expensive and complex pieces of plastic around to a rule book built in China, I might have more time...
Much has gone on since the 6th birthday party. TheO has now started his Summer term at school after the family break in Gozo. Learning to compute mathematics and tell the time comes with a parental cost. No longer 'in a minute' when I really mean twenty , 10 Cola bottles when there are only three, ten Euros and only ten Cents. I must take care in what I now promise! It is really amazing to watch him grow and develop, expanding his thought process which he regrettably demonstrates by negotiating the return of Cartoon Network. (as if)
Louyn coming along leaps and bounds! Words are still coming slowly but now more frequent and unexpectedly. He'll shout 'PASTA' when he sees spaghetti for dinner. Easter was nightmare in this respect as he only said 'CHOC' every 2 minutes or just 'MORE' He is also getting bigger, heavier to carry and too strong for the in-laws to deal with when it comes to running away and stealing 'Figola' from larger children.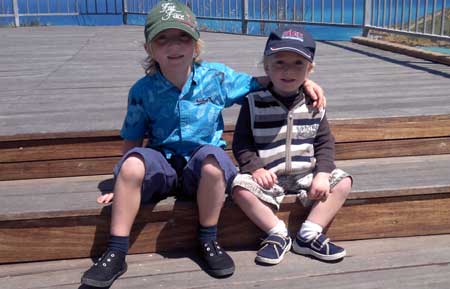 Boys at Calypso Cave, Gozo...
no longer a cave since it collapsed last week eh!

view entry
( 298 views ) |
permalink
|





( 3 / 438 )