Thursday, May 21, 2009, 04:05 PM
I must have been confused. I thought for just a moment I was experiencing that moment in time when everything just gets a little too much. Having now pulled myself together after serious instruction from the good lady, I have had a moment to reflect on the past few weeks and feel many of my recent activities constitute a good reason for the lack of information on the developing family. I feel a little like Jack Nicholson in
The Shinning
! 'all work and no play makes Jack a dull boy' I think he typed. Musn't grumble I suppose.
Since previous entry I have tried to make a living, watched builders pull down much of the recent irrational purchase, comforted an expectant mother of 38 weeks who speaks little else than 'it's coming' with a look of complicated panic. I ask where is it coming and am told little else other than to prepare the
Mastercard
.
The little lad amuses himself by insisting the as yet unborn is called after a packet of Prawns and despite some friendly chat, will not budge. Perhaps a middle name.
As the lady of the house clucks and prepares the nest, my responsibility list gets longer! Birth quite possible within the next 23 minutes or so (i'm made to feel), not sure if I have enough time or brain cells to finish that rather nice Chianti and be ready for possible drive to opposite end of Island, but might as well throw caution to the wind. eh!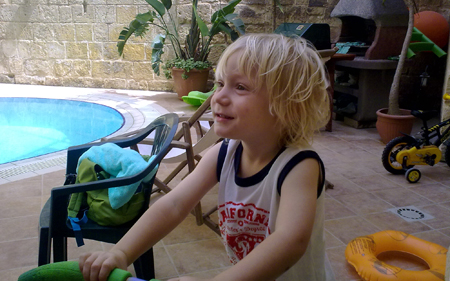 The young man shortly before falling into the pool.