Tuesday, January 9, 2007, 12:55 PM
The United Nations have spent the last few days looking all over Malta. They appear to be acting on rumours circulated by some English person that there is a germ breeding plant close to St Paul's Bay. I have confirmation that it is the 'Dolly's & Teddies' Kindergarten that TheO attends. They have been breeding WMI's (weapons of mass influenza) and testing it on TheO. First time back, we are faced with a streaming nose and relentless cough. It's well worth the money we pay them. I guess they just don't test on Rabbits as it's the national dish, so they use babies instead.
It was the young mans birthday but this did little to stop the flood of mucus! We took him to a 'soft play area', which had more balls than the 'millennium diamond robbers'! He didn't know which way to fall. It could have been any direction, it would still have been padded, however they didn't conceive padding my plastic coffee cup. Fortunately it had gone cold, but that Non Bio stuff just doesn't cut the mustard!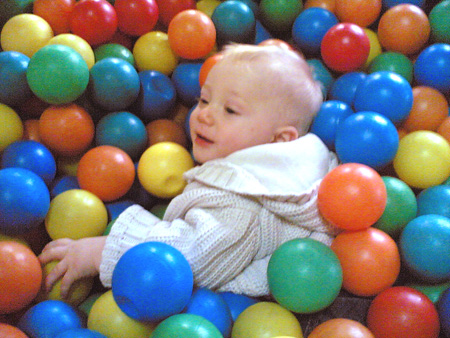 The padded cell comes next....
The good lady has a few relatives over, infact, the very same Australian contingent that were here this time last year. We did explain that we would not be able to perform the same tricks as last time and I think they believed us. Still, one year on, so much to reflect on and still the boy laughs. Happy Birthday little man! Maltese tradition dictates that on the first birthday the parents perform a small ceremony called
Il-Quccija
, I suggest you look up the link for an explanation! He of course chose the wooden spoon indicating that he will be a rich, highly successful, with many friends the world over, and buy his dad a villa in Tuscany!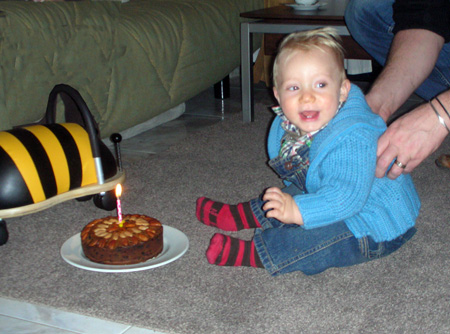 He does like a nice bit of cake
,
even on his birthday!

view entry
( 609 views ) |
permalink
|





( 3 / 1340 )