Thursday, June 3, 2010, 08:01 AM
Posted by Administrator
Now firmly entrenched in a new residence, a sleepy hilltop village, life is not relaxed. Things are not quite what we were led to believe. First there was the
Milk Festival
, an event that took over a weekend, involved beer and wine tents, a food court and much music and dance. This was outside the front door. Next the visit by the Archbishop of Malta. The same provissions as previous, just that the only visitors that came were Nuns. The village celebrates it 400 years of having a church and these matters don't sit quietly with the locals!
TheO surfs the net
At this stage we have all just about managed to acclimatise to the bells. They start at 5am to let everybody know, its 5am. This continues every hour, on the hour until everybody gets the point, at which stage, it's time to get up. I now understand why it's called a sleepy village.
The boys loving the new space, with TheO inviting everybody to tea. He has also been rewarded with a pet Rabbit called Pumpkin. Being the national dish in Malta, I may well have an excuse when the fun & games of 'find the rabbit' and 'what goes in, must come out' exhaust me and my sense of national culture gets the better of me. Best have some white wine and Garlic in!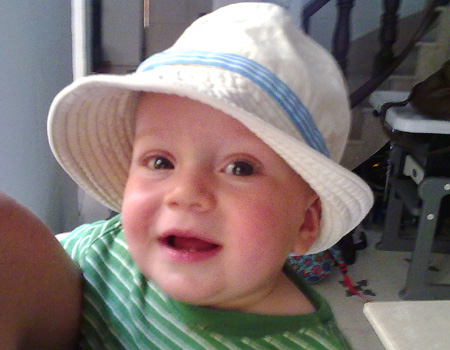 Nearly a whole year old!
The little'est lad celebrates his first birthday party at the weekend (5th June) and has invited some pals along for a knee's up and his
Il-Quccija
. Hopefully the beer and wine tents will come too, but perhaps without the clergy!

view entry
( 1187 views ) |
permalink
|





( 3 / 1892 )